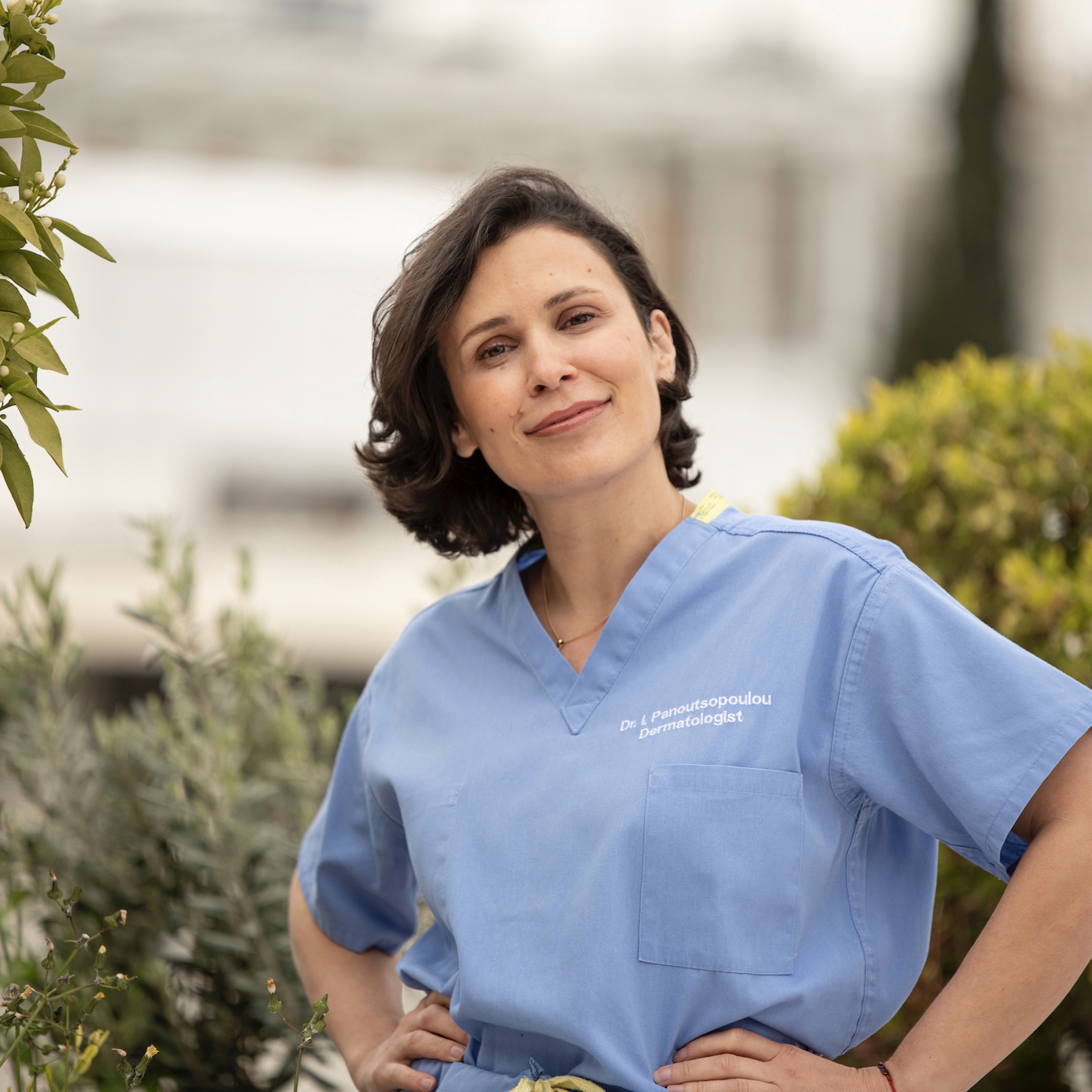 Dr. Ioanna Panoutsopoulou is a US trained dermatologist with specialized training in the fields of medical, pediatric, surgical, cosmetic dermatology and cutaneous oncology. Dr. Panoutsopoulou graduated from the University of Minnesota Dermatology Residency Program receiving awards and distinctions.
The excellent patient care provided by Dr. Panoutsopoulou is achieved through evidence-based, customized therapeutic plans carried with compassion and professionalism.
Dr. Panoutsopoulou has published her innovative research studies on neuro-dermatology in high-profile journals and has a series of presentations at American and International Scientific Meetings. She is dedicated to up-to-date continuous medical education, and participates regularly at Dermatologic meetings and training courses.
Dr. Panoutsopoulou is Scientific Associate at the Dermatologic Hospital "Andreas Sygros", a University of Athens affiliated hospital where she is active member of the specialized clinic "Dermatologic effects of antineoplastic drugs".
Dr. Panoutsopoulou is member of numerous American and European Dermatologic Academies and Societies.
Detailed information regarding Dr. Panoutsopoulou's career achievements, training and publications can be seen here
Medical Dermatology (diseases of hair & nails, psoriasis and autoimmune diseases)
Pediatric Dermatology (eczema, birthmarks, hemangiomas)
Cutaneous Oncology (precancerous lesions, skin cancers and effects of antineopastic drugs on skin)
Dermatologic Surgery (excision of benign and malignant skin lesions)
Cosmetic Dermatology (BOTOX, hyaluronic acid, peelings, lasers)
Dermatology Training (3 years): University of Minnesota, MN, US
Internship (1 year): Hennepin County Medical Center, MN, US
Research Fellow in Neuro-Dermatology (4 years): University of Minnesota, MN, US
Medical School: National and Kapodistrian University of Athens, Greece
American Academy of Dermatology International Society Annual Meeting Travel Grant (2014)
Rob Sias Annual Award for Excellence in Clinical Dermatology, University of Minnesota, US (2013)
Women's Dermatologic Society Mentorship Award, US (2013)
Silver Award 22nd World Congress of Dermatology, Seoul, Korea (2011)
First Place Award in the Basic Science Research Category, University of Minnesota, US (2011 & 2007)
Medical Student Scholarship, by the "Papadakis" Endowment, University of Athens, Greece (1997 – 2002)
Medical Student Scholarship, by the "Kritski" Endowment, Ministry of Economics, Greece (1997 – 2002)
American Academy of Dermatology
American Society for Dermatologic Surgery
European Academy of Dermatology and Venereology
Women's Dermatologic Society
European Association of Dermato-Oncology
Hellenic Society of Dermatology and Venereology
Greek American Medical College